Disclosure "As an Amazon Associate I earn from qualifying purchases made through the links below or I may earn money or products from the companies mentioned in this post.
Easy Personal Care changes to be Eco-Friendly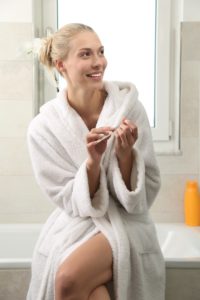 Is there a way to make easy personal care changes to be eco-friendly? Yes. Here are four easy changes you can make to get started.
1. Period Products
Cloth Menstrual Pad/Cups/Period Underwear
You may be wondering why I should switch from my disposable menstrual pads and tampons to something different.
According to this article those items are filled with chemicals https://www.huffpost.com/entry/plastic-free-tampons-pads_n_5c0e88a6e4b06484c9fce988 
They contain nonbiodegrable and potentially toxic plastic and synthetic materials. The chemical Diuron and Dioxin have been linked to suppression of the immune system , along with reproductive problems and cancer.
So what other options are there then?
Not only are they better for you and the environment but they come in fun designs. I personally love the fun designs of my cloth pads.
I have ones with owls, vintage RVs and a Doctor Who one all from Pink Lemonade Shop. There is a link below. I have ordered most of my cloth pads from this company. They are good quality, lasting years, and the designs are awesome.
Pink Lemonade Shop- http://pinklemonadeshop.3dcartstores.com/
Of course you can order cloth pads on Amazon and I'll link some from there also.
Disclaimer: This site contains affiliate links to products. We may receive a commission for purchases made through these links.
I have been using cloth menstrual pads for over 5 years and would not go back to regular disposable pads ever.
Reusable menstrual Cups
To Read all about menstrual cups click http://www.theclassybrokegirls.com/reusable-menstrual-cups-or-disposable/
I have never liked tampons. They never seems to be comfortable and they always leaked. Switching to menstrual cups was a huge game changer though. There is a learning curve but it was completely worth it for me. Now instead of bringing a pack of pads and a box of tampons when I go on vacation I just brink one menstrual cup and a few cloth pads.
To read all about my first experience using a menstrual cup click http://www.theclassybrokegirls.com/eco-classy-period/
Period Underwear
Period underwear look like regular underwear but has a lining sewn into it that acts as a pad. For me these do not replace using pads or a cup but I use them in addition to those items. I will wear the period underwear with my cup in, just in case there is any leaking. I will also use a cloth pad with period underwear overnight since it has more protection and is less likely to leak through the material like regular underwear will.
Period underwear is normally light to medium absorbency so it will be good for those with lighter periods or on lighter days or for spotting.
There are a few different companies that sell period underwear.
Probably the most well know brand is Thinx. I do have one pair from them and I do really like it. My only concern with this brand is that in recent months a report came out that this brand's underwear does contain some toxic chemicals. If this does not concern you and you just want to get started with period underwear or not using disposable items then here is a link to their website.
Disclaimer:
This site contains affiliate links to products. We may receive a commission for purchases made through these links.
Other Options on Amazon
2. Bathroom Basics
What in your bathroom can be improved to be more eco-friendly and make your bathroom experience better? I have three suggestions.
Bidet
Bidets are not a common item in American households but they are popular in other countries. I really wanted one and finally convinced my husband to get one for our 4th anniversary. He thought a bidet was ridiculous and was sure that he would not be using it. Well I convinced him to buy the Tushy Spa attachment. He installed it and was the first to test it out. To both of our surprise, he liked it. Now he tells other people how great having a bidet is.
There are a few things we love about have a bidet attachment. We love that the Tushy Spa is attached to the hot water line so can have warm water when we use it. It was also easy to install and has a few different color options when you order from https://hellotushy.com/
The Tushy Spa and most other bidet attachments are self cleaning and have a feminine wash setting. I use the feminine wash setting on a regular basis and have found it great for that time of the month. Now when I at work or somewhere with out my bidet I miss it. I actually hate when I have to use toilet paper now.
Here is another bidet attachment option
Squatty Potty
The Squatty Potty is also a favorite item in our house. If you haven't seen the ad for it, look it up on Youtube, its hilarous. But for real it makes going some much easier. Our upstairs neighbor think it's weird we have our Squatty Potty and our bidet but we couldn't imagine not having these items. We like to embrace what other people think is weird. But it is interesting how what is considered normal or mainstream is now weird to me and I can't believe that I once thought that using toxic disposable pads, tampons and using paper towels and toilet paper was normal and the only option. So why do we use the Squatty Potty?
Simply- It makes going easier.
Did you know that we should be squatting when we go number 2. Yes, it makes it easier to go. In other countries squatting to go is normal. Before we met, my husband went to Turkey and when he was there, he found that most of the bathrooms had a hole that you squatted over. After coming home he decided that a form of squatting was the way to go. He bought the Squatty Potty. I had read about the Squatty Potty and the benefits and had considered buying one but never did. So when we got married and he had one it was an easy adjustment for me and I was excited to use it.
The Squatty Potty is a simple plastic or bamboo stool that fits around your toilet and puts your body a better/optimal position to go with ease.
Check out their official website to learn more https://www.squattypotty.com/
Of course it is also available on Amazon
Cloth or Bamboo Toilet Paper
We like to use cloth toilet paper. Which for us is basically wash clothes that I cut in half to make two long halves per wash cloth. After using the bidet I use my cloth "toilet paper" to dry off.
In addition to the option of cloth toilet paper there is bamboo toilet paper and bamboo cloth.
Both of these items can be found at https://hellotushy.com/
3. Makeup
Makeup Remover Pads
Instead of using disposable wipes, baby wipes, cotton pads or toilet paper you can you a wash cloth. It is so simple but for some reason we have gotten into the habit and thinking that disposable items are better. Use it once and throw it out. But there is nothing wrong about using a good old fashioned wash cloth to wash your face and makeup off.
Another option is to make your own makeup remover pads and soak them in coconut oil or use with your favorite makeup remover cleaner.
Here is a link to how to DIY this https://pin.it/6Yk1K42
4. Deodorant
Natural deodorant is becoming more and more popular. There are a lot of natural brands available now. I have tried four different brands and discuss my thoughts here http://www.theclassybrokegirls.com/natural-deodorant-native-lume-schmidts-and-edens-garden/
I like natural deodorant because I feel that it is better for me. It is not an antiperspirant and normally has fewer ingredients and is less toxic. You can even make your own with a few simple ingredients but I prefer to buy a good brand. My favorite so far is from Native, but Lume is growing on me also.
I hope you found these 4 Easy Personal Care changes to be Eco-Friendly ideas helpful.
Looking to also make over your household products to be more eco-friendly and less toxic click here http://www.theclassybrokegirls.com/7-zero-waste-household-swaps-to-make-today/
https://www.privacypolicyonline.com/live.php?token=qngz5YmYoeQMm5LJGTT6EjC3AD4pFGlI
(Visited 99 times, 1 visits today)