Disclosure "As an Amazon Associate I earn from qualifying purchases made through the links below or I may earn money or products from the companies mentioned in this post.
Deodorant and Antiperspirant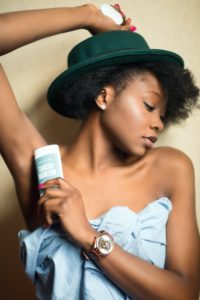 Photo by Godisable Jacob from Pexels
A substance that is applied to mask or hide body odor due to bacteria breaking down.
Antiperspirants stop sweating by blocking the sweat glands. These normally contain aluminum, which blocks the sweat glands, therefore reducing sweating.
Deodorant on the other hand still allows for sweating but reduces the colonization of bacteria or masks the smell. Sweating is a normal human process.
Human perspiration is normally odorless, but bacteria colonizes in this warm area and causes body odor.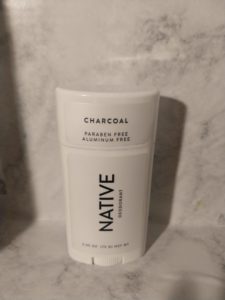 What is the difference with Natural Deodorant?
Natural Deodorants are not antiperspirants. They do not block the sweat glands. They do not contain aluminum.
The common ingredients in natural deodorants are baking soda or arrow root to absorb sweat, coconut oil which is microbial and essential oils. There may be some other ingredients also depending on the brand.  It is possible to make your own deodorant at home with these ingredients but I have found the consistency to be more user friendly with the ones that are available to buy from the various natural deodorant companies out there.
Baking Soda- Does it Matter?
Yes. If you have a reaction or sensitive skin
No. If you don't have sensitive skin
Maybe. All brands are different and one might have an ingredient in it, baking soda or not, that you have a reaction to.
Some people have a sensitivity to baking soda which is a common ingredient in natural deodorants. If you try a natural deodorant and have a reaction look to see if baking soda is one of the ingredients. There are now many companies that make their products or have a sensitive line that does not use baking soda.
I personally do not have a reaction to baking soda but there is an ingredient in at least 2 brands that I do have a reaction to which I will discuss below. I can use natural deodorants with baking soda normally with no problem.
Detoxing Pits before switching to a natural deodorant?
Some people and some of the natual deodorant websites claim that you need to detox your arm pits before switching to a natural deodorant. This is said to help the results of the switch from traditional deodorant and antiperspirant to natural go more smoothly.
I personally did not do a detox before attempting my first brand of natural deodorant about 6 years ago. I can not remember if there was a transition phase or not. But for those who would like to get the best possible chance at liking a natural deodorant there are a few  simple things you can do.
The first is to make a mixture of bentonite clay, apple cider vinegar and water to make a mask that is applied to your arm pits until dry.
A second method is to exfoliate your armpits once a week. This can be done with a homemade body scrub made with oat flour and water. Moisturize with unscented oil like coconut oil.
Third is to just let your body detox naturally which it will do over time with sweating. There might be a transition period that could last from 2-4 weeks. Your odor may increase over the first 1-2 weeks before it starts to decrease. This is especially true if switching from an antiperspirant to a natural deodorant. There will be an increase in odor causing bacteria in week 2 and an increase in sweating since the aluminum is working it's way out. But remember sweating is normal and okay. This detox period will probably be less for those that are only switching from regular deodorant to natural deodorant. Week 3 will bring less odor causing bacteria and less sweating.
Five brands I have tried:
Tom's of Maine
This was the first brand I tried in the more natural line of deodorants. For a little while I liked it. It smelled good and seemed to work. About a month or so into using it I experienced a severe reaction. I broke out in a painful rash and every time I put the deodorant on I started sweating more. It was terrible.
There is now a prebiotic line that I have not tried that I will link below if anyone is interested in giving it a try.
Disclosure "As an Amazon Associate I earn from qualifying purchases made through the links below"
Pros
Buy at local stores
Inexpensive
Smells good
Cons 
Bad reaction
Native
I learned about this brand from sister.  I have now been using this brand for almost 4 years. It feels just like any regular deodorant from the store and smells great. It works very well and I have not had any bad reactions using it.
There are 5 permanent scents- coconut and vanilla, lavender and rose, cucumber and mint, unscented and charcoal
My all time favorite is the coconut and vanilla with second place going to cucumber and mint.
They also have 3-4 seasonal scents every season. I like to order these occasionally when one of them peaks my interest.
Price: $12 for a one time purchase, $10 with a subscription ( I have mine set a t every 4 months since I like to order the seasonal ones also), $20 classic or seasonal box set of three or $24 for 5 different scents of mini/travel size.
I keep coming back to Native because it feels just like traditional deodorant, doesn't make my skin react badly and I love the scents. Of course not every scent is wonderful. Some of the seasonal scents have not been my favorite but the classic scents I always fall back on have been wonderful.
There is also sensitive line that does not include baking soda in the ingredients. I haven't found that baking soda bothers me though.
Other Products:
Body Wash, Bar Soap and Toothpaste
Pros
Feels like traditional deodorant
Good scents
Sensitive line
Can set up a monthly or every 2 or 3 or 4 month subscription by visiting https://www.nativecos.com/products/coconut-vanilla-deo-womens
Cons 
Online purchase only
Eden's Garden
This line is from one of my favorite essential oil companies. They have expanded their products and now have natural deodorant. I was excited about trying these out but unfortunately they were not as good as I had hoped. The scents were fine, I tried two different scents but neither was great. I also was not a fan of the texture of the actual product. Unlike Native that feels just like using a Dove solid from Walmart, the Eden's Garden deodorants are completely different. They are still a solid deodorant but in order to apply the product you need to warm it up under your arm pit for a few seconds before applying it.
The product performed fine and I didn't have any bad reactions to the product. My only issue with this product is the feel of the product and I didn't love the scents.
There are now 12 different scents which is an increase since I tried the product. One of the new scents is Fighting Five which is Eden's Garden's version of Young Livings Thieves blend. This is actually very exciting since this blend is an immune booster. I have not tried it but would be very interested to see how it is as a deodorant.
Other products to buy from this company is essential oils, diffusers, bar soap, body oil, candles, room spray and perfume.
If you order through Eden's Garden use referral code http://rwrd.io/m30tjux and set up Aroma notes to earn points to use toward products.
Pros
No baking soda
Essential oils
Solid deodorant
Cons
Needs to be warmed up before applying
Scents were not remarkable
Schmidt's
This line is available in many stores such as Walmart. I was excited to try this brand because of the price point, that it is available in stores and comes in various scents. Unfortunately I had the same reaction to this deodorant that I did to the Tom's of Maine. At first it seemed to work just fine but after a few weeks my under arms were freaking out and I had to stop using it.
Schmidt's recently added a hemp oil line of deodorants that I have not tried. It has a higher price point than the regular Schmidt's at about $13
Pros
Available in stores
Various Scents
Good price point
Applies like regular deodorant
Cons
I had a bad reaction to this product
Lume
Lume was created by a gynecologist and claims that it can be used on both your pits and your privates. It also claims to work for 72 hours. It comes in 4 scents and unscented. I tried the Jasmine Rose. It was a nice light scent. I don't feel that it lasted 72 hours though. I used this during winter and then on a cruise. It was never super hot and I feel it did a fine job at staying not stinky but defiantly not for 72 hours. The company says that you need to detox your armpit and clothes before using and that over the first week of use you will have to use more product that then can be reduced after using the product for awhile.
I liked the scent of this product and had no bad reactions to it but I do not feel it performed for the 72 hours the company claims. The application is also not like a regular solid deodorant. It is more of a mix between a gel and a cream type of consistency. You turn the knob to get the product to come up and then apply to your skin, but then you need to rub it in. This was a bit different for me but not that bad of a change or a reason not to use this product.
Lume comes in a deodorant stick dispenser or in a tube. Either way the product is the same. I bought the deodorant stick but I feel that the tube packing might be better for me since I plan on using as a anti chafing product between my thighs. I did this on our cruise when we walked in the morning and found there to be less chafing than normal.
I think this is a unique product and it is great that it has more than one use.
They also sell soap and deodorant wipes.
Pros
Nice scent
Vegan
Cruelty Free
Aluminum free
Baking soda free
Can be used on other parts of the body
Tube or stick packaging
Cons
Didn't last 72 hours
Sticky consistency
Other Brands I have not tried yet
Meow Meow Tweet
Kopari
Hippy Pits
Comment below if you have tried any of these brands and what you thought.
(Visited 134 times, 1 visits today)