Disclosure "As an Amazon Associate I earn from qualifying purchases made through the links below or I may earn money or products from the companies mentioned in this post.
First Time Traveler Tips From Kristin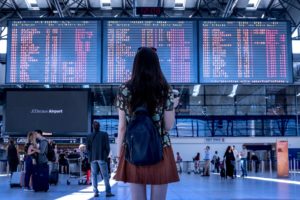 So you're going on a trip? Are you leaving the country for the first time? Driving, Cruising, Flying?
Whatever vehicle of transportation you'll be using for your first big trip it is an exciting one!
My very first experience traveling internationally was in 2008. I was 17 years old and getting ready to go on a cruise to Bermuda.
Things I didn't have…  
A Passport.

Luggage

A Clue
I was 17 years old at this point in time. I was traveling with my sister (Anita) yes, The Classy Broke girl herself.
Tip Number ONE
Get your PASSPORT!!
Regardless of where your home country may be, your passport is your ticket out.
Myself and my sister went to the post office to have our picture taken. We arrived at our appointment with our forms filled out and in hand to immediately mail.
Below, is a link to the 5 step process to obtain your passport. (If you are a US citizen.)
https://travel.state.gov/content/travel/en/passports/apply-renew-passport/how-to-apply.html
Give yourself plenty of time before your trip to get your passport processed.

It can take anywhere from a couple weeks to a few months depending on the current state of processing.

YES! The cliche of terrible passport photos are a thing for a reason.  Don't stress too hard if the photo isn't your absolute best angle. On the same note however, It does stay with you for 10 years. I had my passport renewal photo retaken many times…. Chances are you won't love it, but, if you can find one that you don't utterly detest, you're doing pretty good.
TIP NUMBER TWO
Luggage!
So, As I was saying my first big trip was on a cruise. I did not own any luggage besides a backpack.  Anita and I went to a discount store and purchased the largest hot pink duffel bag, that to this day I've ever seen.
For our next trip which was a three week trip to Europe when I was 20 we went to Kohl's and bought complete luggage sets that were buy one get one free.  Some pieces of those sets we still have 10 years later. They were definitely not the most expensive or the best quality but they did the job and then some. 
For that Europe trip we were on a group tour so it wasn't that difficult to have a lot of luggage. At the time it seemed like we needed a ton of luggage for those three weeks. I believe that we each brought the large suitcase and a medium sized duffel type bag. We did laundry in the sink of our hotel in Rome and hung the clothes in the room. 
Now though we have both transitioned to using smaller luggage or just carry on size luggage. When you go from a large suitcase that you has to be checked to just carry on luggage it can be scary. Will I have enough clothes and how will I fit everything in? But from experience traveling with just a carry on is so much better than a large suitcase. 
Check out Anita's post about traveling around Europe with a budget friendly travel back pack here  http://www.theclassybrokegirls.com/ebag-weekender-backpack-review/ 
And this post about why a carry on only bag is better than a large suitcase
TIP NUMBER THREE
Get a Clue!
How do you go about getting a clue about travel. By reading blogs like this one. 
Here are more from The Classy Broke Girl to help you get some travel inspiration. 
http://www.theclassybrokegirls.com/ocean-city-md-vs-assateague-state-park/
http://www.theclassybrokegirls.com/harpers-ferry-and-maryland-trail-heights-trail/
http://www.theclassybrokegirls.com/mystic-connecticut-in-36-hours/
Look for travel resources on Pinterest and everyone's favorite Google.
Here are The Classy Broke Girls's travel boards on Pinterest to get you started.
https://www.pinterest.com/theclassybrokegirlgetsmarried/best-travel-locations/
https://www.pinterest.com/theclassybrokegirlgetsmarried/great-travel-products/
https://www.pinterest.com/theclassybrokegirlgetsmarried/best-places-to-travel-to-in-the-usa/
Find travel guru's to follow on Instagram . I am not a guru but here is my travel page on Instagram @kris10travel to give you some travel wanderlust
The more you read about travel the less scary it will be. But you can read, read and read but eventually you will need to take the leap and go for it. 
So get your passport, some luggage (smaller is actually better) and get a clue by continuing to do research and you will be ready to travel in no time. 
(Visited 48 times, 1 visits today)