Disclosure "As an Amazon Associate I earn from qualifying purchases made through the links below or I may earn money or products from the companies mentioned in this post.
Shein Review
With summer around the corner and Covid-19 still causing places to be closed and travel looking unlikely for the near future, I found myself shopping online. I came across a website www.us.shein.com. I have ordered two swimsuits and two pairs of shorts from Shein now and think this Shein review will be helpful for those not sure if they should order from Shein or not.
What is Shein?
Shein is an online clothing and household store. It sells decently prices items for women, men and children which include, dresses, shoes, sleepwear, swimwear and accessories. I have found that the prices are very reasonable and the quality is pretty good. The products ship from China so it does take a few weeks to get the items but so far I have been quite satisfied with my orders.
How I Found Shein
Ever since stay at home started, my husband and I have been spending a lot of time with our upstairs neighbors in the hot tub. With the days getting warmer I also went to Walmart and picked up a small pool to put on the patio. That is how I found myself looking for new swimsuits online. I looked on Amazon and there are quite a few cute vintage style swimsuits. I had previously ordered one of these styles on Amazon. This time I found a cute swimsuit on Shein and the price was less. That is one of the things that made me order form Shein. They seem to have lower prices then anywhere else I found online. There are other companies selling swimsuit in the $20-$20 range such as Romwe, Dressily and Amazon but Shein is the only one that seemed to be selling them for under $20.00.
I was a little hesitant to order from Shein. I was not sure of the quality or how long it would take to show up but they had the best price.
The Shein Review
This is the first bikini I ordered
I thought it was really cute and unique. I really liked the idea of the top, that it had sleeves, has a high neckline and is a longer bikini top with the high bottoms. This set is currently selling for $18 plus shipping.
My Thoughts
I love this swimsuit. The bottoms are perfect for covering my stomach. I love the top with sleeves and the tie. It is comfortable, fits well and I love that covers my shoulders. It is quite a thick material. This swim top will be perfect for warm but not super hot days. It also will go well with other swim bottoms I have.
The only thing I do not like about the Shein site is the sizing. Sizes 4-10 are women's sizes while sizes 12-18 are curvy and Plus size. I really don't like that there is not a wider range of sizing available. I also really do not like that how they label sizes 12-16 as plus size. Size 12 is labeled as 0X, 14 as 1X, size 16 as 2X and size 18 is 3X. I ordered the 2X for this swimsuit. Normally an XL would be the right size for me, but not with Shein.
If you fit in the sizes they offer and don't mind their terrible size labeling then I think you should check out Shein.
The pictures below are the actual product I received. The packaging is so better than expected. They come in nice Shein zippered bags.

Review of Second Swimsuit
The second swimsuit I ordered was another high waist bikini. It was only $11.
This swimsuit also seems to be good quality. The high waist bottom fits very nice. The top is just a little looser than I would like but still fits wells and covers up where I want it to.
The bikini sets on Shein are sold in the same size for the top and bottom so if you need different sizing for either the top or bottom you might want to look at the separate swimsuit pieces instead.
The picture below shows the actual product I received.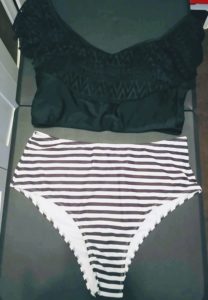 Shorts Review
The most recent items I received from Shein were two pairs of paper bag shorts. I was looking for longer and looser fitting shorts and came across these. These two pairs of shorts were less than the one pair of Bermuda jean shorts I bought from Kohl's.
What are paper bag shorts?
These shorts are called paper bag shorts due to the design of the waist. They have a scrunchy waist that reminds one of a paper bag. They usually scrunch at the waist and are tied together with a ribbon/belt. These shorts are definitely on the more dressy side but can be either dressed up or dressed down. I think they would be really cute for a lunch date with friends or just to feel a little nicer.
The picture below is what the shorts look like online. The first pair comes in black, green, navy and pink. I ordered them in black and the price was $11
The other pair is the same design. It was also $11 and was available in green, navy and burgundy.
This was my first time trying paper bag shorts and I think I am a fan. They are quite comfortable, the length is not too long nor too short and the waist is not too tight. The material of these shorts is light. They do seem to wrinkle a little bit and the black ones might be see through in the sun.
Below are some pictures of me trying on the paper bag shorts. I also tried out some editing with our green screen and pretended I was at the beach.
Should you order from Shein?
Pro's: 
good prices, large selection, sizes from S-4X
Con's:
items sell out fast, shipping times, size 14 and 16 are considered curvy and plus.
Conclusion:
I have been quite happy with my purchases from Shein. They take a little bit to arrive since they do come from china but that doesn't bother me. There is a wide selection and the prices are reasonable. I like that you can heart items you like to be saved in a wish list and you earn points on purchases you make. The thing I dislike the most is the sizing of the size 14 and 16 being listed as X1 and X2. The largest size is X4 which is size 20. I have to remember to click on the curvy and plus section before looking for items which is a little annoying.
(Visited 561 times, 1 visits today)