Disclosure "As an Amazon Associate I earn from qualifying purchases made through the links below or I may earn money or products from the companies mentioned in this post.
Mystic Connecticut in 36 hours
It was only a four hour drive from Pennsylvania to Connecticut according to my phone so we made the decision on a Monday night, I did a quick google search of what to do in Connecticut and we settled on Mystic Connecticut. We left Tuesday afternoon about 4 pm and arrived in Groton, CT about 9:30 pm. We hit traffic because I had the brilliant idea to use the Tom Tom GPS and not Google Maps on my phone which meant it lead us right through New York City in the middle of rush hour traffic.  While we were driving I looked up hotels on our favorite website to book hotels www.hotwire.com
Where to Stay
After some debating on if we should risk taking the cheapest hotel option at $25 a night and some apprehension on my side, it was decided to take the chance. This was a last minute, spontaneous trip after all and we are not fancy people. Coworkers constantly ask me how we go on so many trips and vacations. The answer; we never spend a lot on where we stay whether it be a hotel or a campground or at a friends house. We would rather save on where we sleep since we normally spend most of the day out exploring anyway and aren't really at the hotel very long. The least we have ever spend besides free by staying with friends was $10 on a campground in Oklahoma.
Hotwire gave us a hotel called the Gold Inn and Suites in Groton, CT about 15 minutes from Mystic Connecticut. When we arrived it didn't look terrible from the outside. Was it the Hilton down the street, not even close but it was doable. There was a fridge, microwave and a large bathroom, old but clean. My husband was very pleased with the $25 hotel room.
A Very Full Day in Mystic Connecticut
In the morning I did a quick search of good places to go for breakfast and choose a cute little place called Carson's store.
Carson's Store
43 Main St, Groton, CT 06340
7:30 am-2 pm
Carson's Store was an adorable little breakfast and lunch spot. They also serve ice cream and have some merchandise such as mugs, t-shirts and wooden signs. It looks like you have stepped into the 50's with it's black and white checkered floors. I ordered the balsamic spinach egg white omelette with home fries. It was overflowing with spinach and very delicious. My husband ordered what he always orders, 3 eggs over easy with white bread.  We had a nice breakfast and then made our way over to the Mystic Seaport Museum.
Mystic Seaport Museum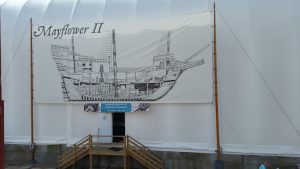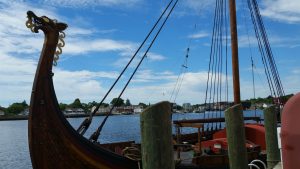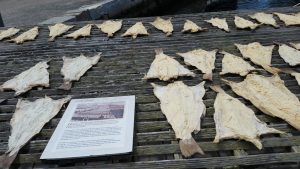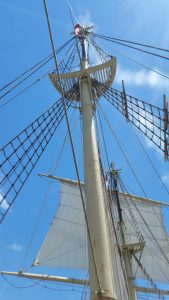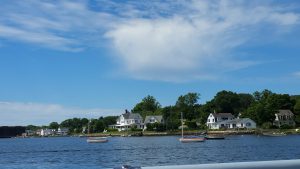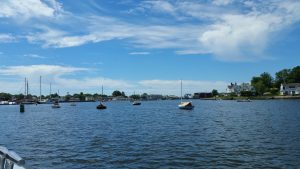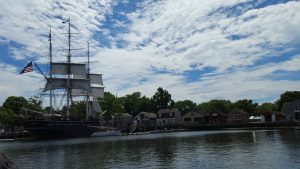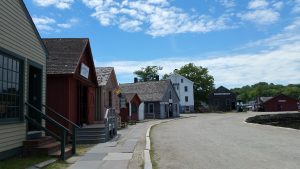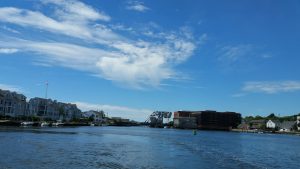 The Mystic Seaport Museum was very interesting. I do recommend buying your ticket online the day before for $26 per person. You will save $3 over the ticket price at the door. The seaport includes an active shipyard where they rebuild/ fix up old ships. Right now through 2019 they are working on the Mayflower II which is replica of the Mayflower. Mayflower II was built in the 1940's. There are videos with more information about the Mayflower II and how they strive to use the old techniques of wooden ship building. We learned how they restore old ships and also how the old ships were originally made.
There was a 25 minute boat ride on the Liberty for $4 each that we decided would be fun to take. We were the only ones on the boat. The driver told us more information on some of the ships docked at the Seaport, also about the sailing program that the Seaport runs for students ages 10-15 years old. We also learned about the Charles Morgan and the Joseph Conrad Ships. The Joseph Conrad is used to bunk the sailing students. After our boat tour, we continued walking and went aboard both these ships. The Morgan allows you to go underneath and see the Captains quarters along with all the sleeping bunks. It was interesting to find out how low the deck was, I am only 5'4 and had to duck down most of the time we were down there.
There are also exhibits on how they made rope, the whaling industry and about Vikings.  The village area was one of my favorite parts. There was a blacksmith, a copper, a chemist in the pharmacy, an old general store, an old printing press and newspaper along with houses from the 1800's. The employees and volunteers that work in these areas provide a lot of great information about how things were done in the past.
Old Mystic Village
We spend about 5 hours at the Seaport Museum before heading 4 minutes down the street to the Olde Mystic Village Shops. There are quite a few shops, a movie theater and a few eating places. We enjoyed the chocolate covered orange peels form Munson's Chocolate.
Food
At this point I was ready for some real food though. Being in Mystic, CT we had to try the iconic Mystic Pizza located in downtown Mystic. After some research I found out that there are now two locations. The original located in Mystic and a second location called Mystic Pizza II located in Stonington that was opened after the movie Mystic Pizza was a hit. It was the original that inspired the movie but was not used to film because it was too small. They built an exact replica to film in not far from the real location.
Mystic Pizza
The current Mystic Pizza has been remodeled from the 80's and has expanded into the adjoining space. There was no wait when we went at about 6 pm on a Wednesday night. We were seated upstairs right next to the window with a nice view of the sign. We ordered calamari and the House Special. The House Special had pepperoni, sausage and peppers on it. What I found interesting was that the toppings were underneath the cheese instead of on top of the cheese. The pizza was good. It was hard to taste the "special sauce" on this pizza, maybe if we had gotten a regular cheese pizza but it was good. I don't know if the toppings underneath the cheese is a New England thing or a Mystic Pizza thing. We got a box for the remainder of the pizza we couldn't finish to heat up in the microwave in our $25 hotel room. Again my husband was happy with that choice.
Down Town Mystic
Downtown Mystic has street parking or some paid parking just around the corner. We used one of the paid parking lots. After dinner we walked in and out of the shops in town. It is a very cute seaside town. From Mystic Pizza you can see the drawbridge that goes up every hour at about 40 minutes after the hour in the summer. Right near the drawbridge is an ice cream place called Drawbridge Ice Cream. It was not very warm at this point in the evening but we stopped to get some ice cream anyway before walking across the bridge to check out the other side of town.
Drawbridge Ice Cream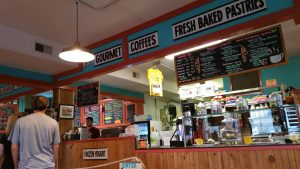 The drawbridge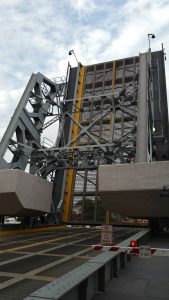 Esker Beach
There was not much time to check out Connecticut beaches so we just headed to a small one on the way back to the hotel. Esker Beach is a very tiny beach with no lifeguard. The tide was low when he arrived and the sun was setting. We only hung out there for a little bit. If we had another day or two I would have liked to go to some of the other beaches close by.
One Last Stop
On Thursday morning it was time to head back home. But first we choose one last place to eat. We went back to Olde Mystic Village shops to a place called Blue Squid. They serve breakfast, lunch and are a bakery. Again I was happy with my breakfast, this time getting a breakfast sandwich and my husband ordering his usual breakfast where ever we go.
Blue Squid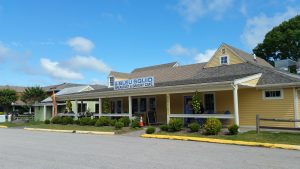 Summary
The things we did not do while in Mystic were going to the Mystic Aquarium, taking any of the longer boat tours, or going to any of the other beaches near by. Overall our 36 hours in Mystic, CT and the close surrounding area was very enjoyable. I really liked the small seaside town of Mystic and enjoyed the scenery. If you are trying to think of where to go in New England I would definitely recommend checking out Mystic.
(Visited 1,289 times, 1 visits today)