Disclosure "As an Amazon Associate I earn from qualifying purchases made through the links below or I may earn money or products from the companies mentioned in this post.
Thieves Essential Oil- Why you need it!
You may be wondering what Thieves essential oil is. It has a funny name and the name doesn't exactly explain what it is. This article will fill you in on what exactly Thieves essential oil is. Where the name came from, how and why to use it.
The Name
The name Thieves is Young Living's proprietary blend that is inspired by the legend of four French thieves from the 15th century. The legend says that they created a special aromatic combination that protected them from the black plaque. That when they were caught the authorities gave them a more merciful punishment for divulging the ingredients in the secret formula. 
Whether this true or a completely made up story to sell a product I have no idea. What I do know is that the scent of Thieves is a wonderful spicy aroma that I can't get enough of.
Thieves essential oil is made up of Clove, Cinnamon Bark, Eucalyptus, Rosemary and Lemon essential oil.
Why are these oils so good?
Clove essential oil: An antimicrobial, to help kill bacteria (https://www.healthline.com/health/clove-essential-oil#benefits)
Cinnamon Bark: antibacterial, antifungal (https://www.healthline.com/health/cinnamon-oil#benefits)
"Research suggests that cinnamon oil:
Combats hard-to-treat bacterial organisms. A study

Trusted Source

, which used bacterial cultures and lab tests, found that compounds in cinnamon oil had an antimicrobial effect against Pseudomonas aeruginosa, a potentially life-threatening, drug-resistant bacteria that affects plants, people, and other animals.
Supports oral health. Cinnamon's antibacterial and antifungal properties have been found to be effective against Streptococcus mutans

Trusted Source

 and on Candida ssp biofilm, two agents which cause oral infections and cavities in teeth.
Disinfects. Cinnamon bark oil's antibacterial properties make it a safe, effective, and non-chemical additive alternative that can be used to preserve products and increase their shelf life. One study

Trusted Source

 found that cinnamon oil could be effectively used as a preservative in cosmetics, toiletries, and hospital-setting disinfectants."  (https://www.healthline.com/health/cinnamon-oil#benefits)
Eucalyptus: Antimicrobial properties
Rosemary: antiviral, anti-fungal, antibacterial, and antiseptic
Lemon: Antimicrobial Agent
"Lemon oil can be used to cleanse your home of harmful pathogens, like bacteria, fungi and other harmful pathogens. Using lemon as a natural cleaning product also keeps your home free of conventional products that are made with dangerous chemicals." (https://draxe.com/essential-oils/lemon-essential-oil-uses-benefits/)
https://www.healthline.com/health/lemon-essential-oil#improve-skin
How to Use?
The Thieves line of products from Young Living is quite diverse. It includes more than just the Thieves essential oil.
The main way to use Thieves is the Thieves essential oil blend. It comes in a 5 ml vitality blend which just means that it is labeled for ingestion and a 15 ml bottle. They are actually exactly the same oil just different sizes and different labels.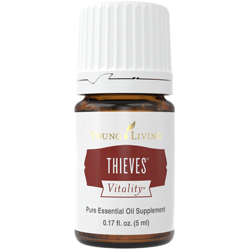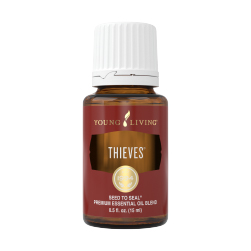 It is recommend you do your own research and make your own decision on whether or not to ingest essential oils. Some oils are considered hot oils and they are all very concentrated. I personally choice to very rarely ingest essential oils since there is controversy regarding whether it is acceptable or not. 
Another great way to use Thieves in your house is to use the Thieves Household Cleaner. It is a concentrate that smells amazing and works great. This cleaner comes as a 14.4 ounce bottle. Just one cap full of cleaner makes a 16 ounce multi-purpose cleaner. That comes to about 60-65 of these 16 ounce multipurpose bottles. The concentrate sells at wholesale for $22.50 meaning that if you get 65 bottles out of it, each bottle cost you $0.35. No other bottle of cleaner, let alone a non-toxic one sells at this price.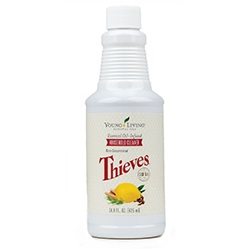 There are a ton more products in the Thieves line.
These include toothpaste, mouthwash, mints, cough drops, hard lozenges, hand sanitizer, wipes, dishwasher detergent, foaming hand soap, dish soap.
How do I get this amazing stuff?
Sign up for a wholesale account by buying one of the premium starter kits. There are two options.
The Thieves Premium Starter kit as seen below. It comes with so much great stuff.
Includes:
2 bottles of the household cleaner concentrate (I love this stuff)
Thieves toothpaste
Thieves mouthwash
2 Thieves foaming hand soap
3 bottles of waterless thieves hand sanitizer
1 Thieves mints
2 Thieves Spray 1 oz bottles,
Thieves essential oil blend
Stress Away essential oil blend ( Smells amazing)
1 rollerball attachment
2 ningxia red samples. 
$160 
So many great Thieves products, a wholesale account with 24% off retail and no commitment to buy monthly or to sell.
Use Sponsor/member # 19393421
https://www.youngliving.com/vo/#/signup/new-start
or
https://theclassybrokegirls.lifestepseo.com/kits/thieves
The second option is to order the Everyday Oils Premium Starter kit.
12 Oils (Frankincense, Peppermint Vitality, Digize Vitality, Valor, Lavender, Peace and Calming, Lemon Vitality, Thieves Vitality, Panaway, Raven, Citrus Fresh, Stress Away)
1 Diffuser
2 roller ball attachments
1 Thieves Spray 1 oz bottle
2 samples of Ninxgia Red
Thieves waterless hand sanitizer
$165
This premium starter kit gets you started with 12 great oils, a wholesale account with 24% off retail and no commitment to buy monthly or to sell. 
Sponsor/member # 19393421
https://www.youngliving.com/vo/#/signup/new-start
or
https://theclassybrokegirls.lifestepseo.com/kits/everyday
There is a monthly Essential Rewards account ($50 min a month order) that many sign up for that earns you points back on each purchase and free products. ER is completely optional but has some great perks. Signing up for ER when you order a premium starter kit gets you 10% back on your account in pv points right away to use on other products. 
(Visited 5,707 times, 1 visits today)