Disclosure "As an Amazon Associate I earn from qualifying purchases made through the links below or I may earn money or products from the companies mentioned in this post.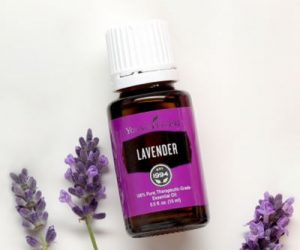 To get started with using essential oils requires some essential information. This article covers five essential oil basics to get you ready to start using essential oils.
Essential Oil Basics #1- What are Essential Oils?
Essential oils are extracted from leaves, flowers, seeds, roots and resins. These extracted essential oils support health and well being. The oils are obtained through distillation (via steam and or water) or mechanical methods, such as cold pressing.
An essential oil is a natural product extracted from a single plant species. Not all plants produce essential oils, and in the plants that do, the essential oil may be found in the roots, stems, leaves, flowers, or fruits.
They are therapeutic, antiseptic, anti-inflammatory, antibacterial, anti-fungal and anti-parasitic. They promote homeostasis and work with the peripheral and ventral nervous system. Essential oils are non-greasy and require only a few drops to have tremendous effects on emotional well-being and physical health.
Essential oils are volatile oils. This means they need to be stored in dark glass bottles in a cool area and they evaporate quickly into the air.
Definition-Volatile
The light chemical compounds within essential oils that evaporate quickly into the air. It should be noted that undiluted essential oils contain hundreds of complex compounds.
Essential Oil Basics #2- What is Aromatherapy?
Aromatherapy is the therapeutic use of essential oils to increase cognitive function, bodily health and mood. Essential oils can be diffused or applied topically.
There is a debate on whether essential oils should be ingested. Please do your own research on ingesting essential oils before just doing it. Some essential oils are safer to ingest than others. If ingesting essential oils it would be wise to mix it with a carrier such as honey so as not to be drinking the oil straight since water and oil do not mix, water does not dilute essential oil.
75% of emotions are prompted by smells
Essential oils interact with the limbic system
Essential Oil Basics #3-What to look for in an essential oil Brand?
Pure 100% essential oil, nothing added or synthetic. Look for the botanical name
Definition- Botanical Name
Represents the genus and species of the plant. Essential oils are in Latin and list genus first and species second. The name identifies where each essential oil comes from and defines its properties.
Essential Oil Basics #4 -Facts 
 Essential oils are also used by plants themselves. Naturally occurring essential oils in plants help with infection control, humidity control, hormonal effects, wound healing, and attracting or repelling insects, birds, and animals.
 Essential oils do not feel oily; they are called "oils" because they contain the oil-soluble chemicals in the plant (usually 100 to 200 chemicals per essential oil). This complex chemistry gives essential oils their therapeutic properties and explains why different essential oils may have overlapping effects.
Essential Oil Basics #5- How to get started
Now that you have a better idea about what essential oils are and why to use them, you might be interested in getting started using essential oils. Essential oils are a great way to benefit your family's health and begin to switch to a toxic free life.
Essential oils have many benefits from smelling good, being anti inflammatory and anti-fungal, helping with your emotions and to clean your house.
I love using Lavender and Cedar wood at night in the diffuser to help me fall asleep. I use Valor, Joy or Abundance essential oil blends in the morning to get my day off to the right start.  I use stress away when I have having trouble dealing with various things happening in life.I use Thieves cleaner, Thieves mouthwash and Thieves toothpaste to replace the toxic versions that I used for years.
There are so many ways and reasons to use essential oils and products that are made with essential oils. They not only smell great but they have properties that promote well-being and keep our homes clean.
Starter Kits
Disclaimer: This site contains affiliate links to products. We may receive a commission for purchases made through these links.
Essential oils
The everyday oil premium started kit is the way to get started using essential oils and get introduced to Ningxia Red and Thieves. Click on the link below to learn more and order your premium starter kit.
https://theclassybrokegirls.lifestepseo.com/kits/everyday
The everyday oil kit includes 12 oils, a diffuser, 2 samples of Ningxia Red, a bottle of Thieves waterless hand sanitizer and a bottle of Thieves spay.
This is the best way to get some wonderful oils and a diffuser and start using essential oils. Make sure to use the link above when ordering so I know you ordered and are on our team and can send you a free gift from me.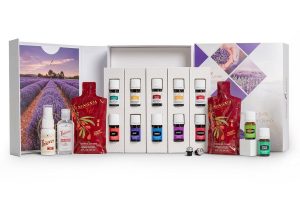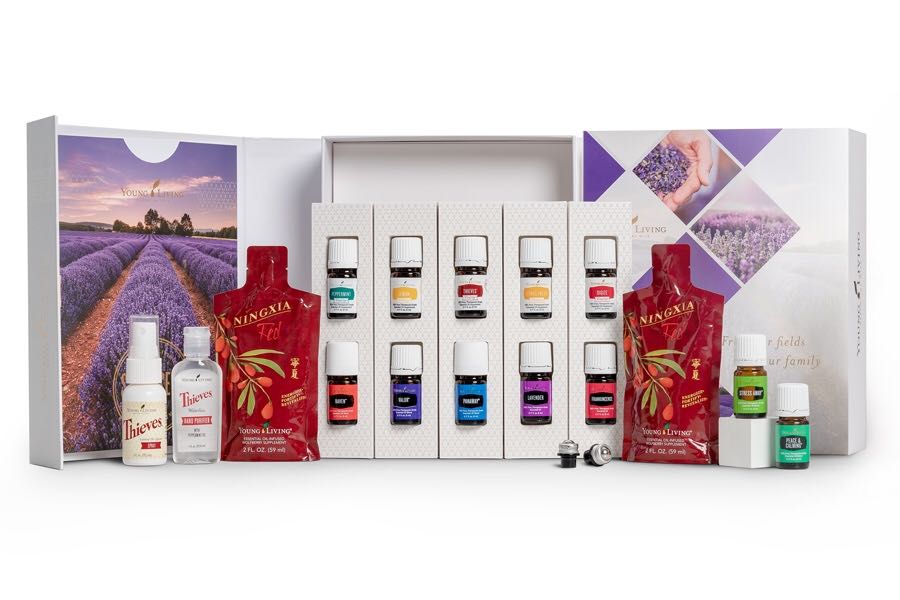 Thieves Products
If you are looking to make the switch to better and less toxic house cleaning and lifestyle products for your family, check out the Thieves starter kit. Click on the link below to learn more and order your Thieves starter kit.
https://theclassybrokegirls.lifestepseo.com/kits/thieves
It comes with 2 bottles of Thieves household cleaner, Thieves mouthwash, Thieves toothpaste, 2 foaming hand soaps, 15 ml bottle of Thieves essential oil blend, Thieves mints, 3 Thieves waterless hand sanitizers, 2 1 oz bottles of Thieves spray, 2 samples packets of 2 oz of Ningxia Red and a 5ml bottle of stress away.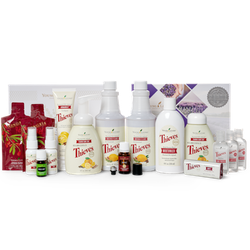 The household cleaner is a concentrate so it will last a very long time. Take just 1 cap full of the cleaner and add it to a 16 oz spray bottle and fill with water and you have a multipurpose household spray. This bottle will make many bottles of spay for you.
The Thieves mouthwash is also very concentrated and can be split into two. I put half into another bottle and then fill both those bottles the rest of the way up with water.
In addition to all the products you get in your starter kit, I will be sending you a lip balm of your choosing,  a bottle of Thieves spray made with the Thieves household cleaner and Thieves essential oil blend that you can keep or share with someone else and a guide to help you learn and use your new oils. You will also be added to the Keep Calm and Essential on Facebook group. Make sure you use the links above so that my member number goes in when you order so I know to send you your free gifts.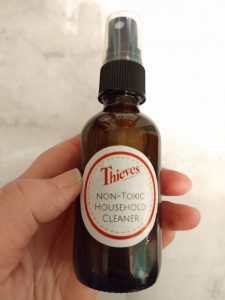 Thank you for visiting to learn about essential oils today.
(Visited 73 times, 1 visits today)