Disclosure "As an Amazon Associate I earn from qualifying purchases made through the links below or I may earn money or products from the companies mentioned in this post.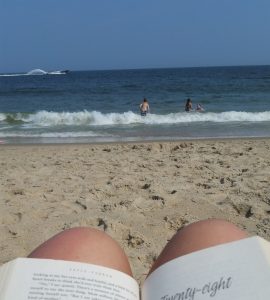 Ocean City Maryland
With the weather still humid in late August we headed down to Ocean city Maryland for a midweek get away.
There are a few things I liked about Ocean City Maryland as compared to the New Jersey Beaches we normally go to. Although New Jersey beaches are closer to where we live in Pennsylvania, they all charge per person to get on the beach and in my personal experience I have found the beaches to be a bit on the dirty side. I loved Rohobeth beach in Delaware for it's cute town, interesting shops and no fee to get on the beach. For Rohobeth there is paid street parking or there is parking in a lot about 10 minutes away that has a bus that came to drop you off at the beach. It was very convenient. At all the Jersey beaches I have been to there is either street parking, some being free but most being paid or a paid parking lot.
Ocean City, Maryland does not charge to get on the beach but there is a charge for parking if you are not staying in a hotel with free parking. We debated on staying farther away in a cheaper hotel and driving into the beach or staying within walking distance of the beach but paying more. We were happy with our decision to stay about 3 blocks from the beach at the Ocean Lodge. It has a small parking lot for their guests and we saved by not having to pay for parking. There is paid parking near the beach entrances for $3.00 an hour. This means a full day at the beach  would cost about $20 in parking. There are plenty of hotel options for all budgets. Our room was tiny but the bed was comfortable and had air conditioning. It was really nice to be be able to go back to the hotel, shower and change and then go back to the boardwalk for dinner.
The boardwalk has many food options, an arcade and ride area and various shops. The one thing I did notice was that most of the shops were a lot alike, selling the same stuff. In this respect I did miss Rohobeth  or Cape May and their more unique shops but it was still enjoyable to walk up and down the boardwalk at night.
Assateague State Park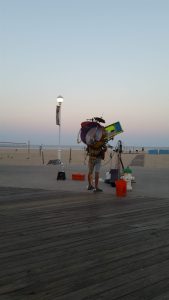 After two days and nights at Ocean City Maryland we headed over to Assateague State Park for our last day before drving home. From 8th Ave where our hotel was located to Assateague was only 15 mins. We stopped at the visitor center to learn about the islands of Assateague and Chincoteague. They have a nice video that explains a lot about the island and the horses.
There are two options for Assateague Island. The State park which is were we went or the Assateague Island National Seashore. The state park has a parking lot right at the beach entrance, with showers and changing stalls and a tiny food grill. It cost us $6.00 per person to go to the Assateague State park but we felt it was well worth it for the wild horsed on the beach.
We did not use the bathrooms or shower facilities so I don't know how they were and the grill was understaffed at the end of the season so we just ate on the ride home.What made Assategue State Park so enjoyable were the wild horses that we saw. Within minutes of arriving 3 horses came running on to the beach. They choose to hang out not far from where we set our chairs up. Then when we went in the water the horses also decided that they wanted to cool off in the ocean also. The one State worker doing a survey told us later that it was actually rare to see the horses in the ocean, but when it is very hot they will go in to cool off. The 3 horses hung out in the ocean for about an hour before joining a few more horses that came along and then running off. Not long after that a huge band of horses, we counted 18, came strolling down the beach. They didn't stay as long the first 3 horses did but it was very interesting to see that many wild horses on the beach doing their thing.
I really enjoyed all of our days at the beach whether they were at Ocean City Maryland or Asseteague. Both have different things that one may like or dislike.
Ocean City, Maryland pros: Lots of hotels, boardwalk, various food options, liquor stores, rides and games, bike rentals, trolley ride, can go on beach after dark and sun umbrella rentals.
Ocean City, Mayland cons: paid street parking if not staying in a hotel that has parking, many of the shops were the same and geared towards teens and high prices.
Asseteague State Park Pros: no boardwalk, looks more like Outer Banks, Wild horses, Visitor Center, showers and bathroom, Grill, parking lot, less crowed, and beach camping.
Assetegaue State Park Cons: Only one food option, have to be aware of horses and stay a bus length away, can't have open food, no liquor and only one small gift shop.
Depending on what your looking for in your beach day or days will determine which option you would find more enjoyable. There is also the option of the Assategue Island National Seashore which is a $10-$20 fee per vehicle. And a permit can be acquired to drive on the beach with 4 wheel drive for a a fee. In the National Seashore side there are also walking trails.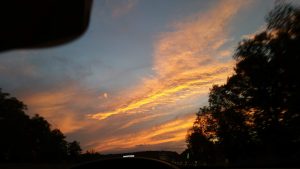 (Visited 619 times, 1 visits today)