Disclosure "As an Amazon Associate I earn from qualifying purchases made through the links below or I may earn money or products from the companies mentioned in this post.
How to Make the Best Keto Jalapeno Poppers
Do you have a love of bacon and cream cheese with a kick? Is your garden over flowing with jalapenos and you don't know what to do with them. The keto Jalapeno poppers recipe that my husband and I love is for you.
What will you need? Just three ingredients.
Jalapenos, cream cheese and bacon.
What kind of Bacon?
After making these many many times I have learned that thinner bacon is better for staying wrapped around the jalapenos but any bacon you have will do. We found the best deal on bacon at a local Mennonite Grocery store. It is the thickest bacon and is great for baking in the oven on a sheet pan flat but when we use to make jalapeno poppers the bacon always unravels. We still use it though because the price is just the best I have ever seen and under other bacon eating conditions I love the thick bacon.
Preparing the Jalepeno
We normally use 8 jalapenos that are cut in half and the seeds removed. Did you know the seeds are what make the peppers hot, so I like to get as many out as possible, but the choose is up to you.
Then we fill each half of the jalapeno with cream cheese. Use as much as it takes to fill the jalapeno half.
Third, cut your bacon in half. If your jalapenos are extra large then you might need the whole piece of bacon but we have found that half a slice per half will work just fine.
Next, wrap you bacon around each jalapeno half stuffed with cream cheese. Put these on a baking sheet.
Last, put your tray of bacon wrapped jalapenos in the oven. The oven should be heated to 375 and leave the poppers in the oven for about 25 minutes. Stating checking on them around the 20 minute mark depending on the thickness of the bacon. The thick bacon we use can take 35 minutes to cook. We also like our bacon crispy so I leave it in longer. Continue to check  your poppers until you decide that the bacon looks how you like it.  The total cook time of the jalapeno poppers will be 20-40 minutes depending on bacon and personal preference.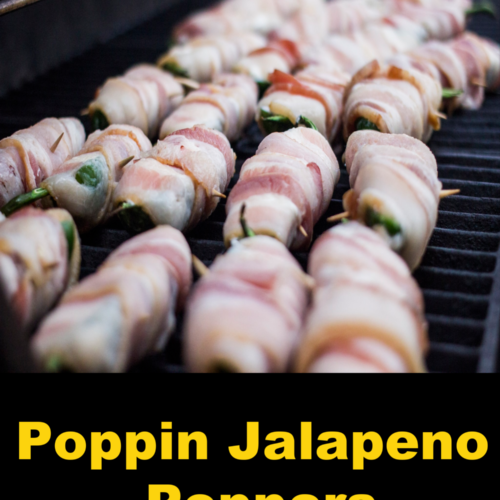 Poppin' Jalapeno Poppers
Spicy Jalapenos, creamy cream cheese and delicious bacon make up poppin' Jalapeno poppers
Ingredients
8

Jalapenos

cut in half and seeds removed

1/2

cup

Cream Cheese

8

slices bacon

cut in half
Instructions
Cut Jalapenos in half and remove seeds

Fill each Jalapeno half with cream cheese

Wrap each half piece of bacon around the cream cheese stuffed Jalapeno

Put in oven on a cookie sheet for 20- 40 minutes at 375 depending on the thickness of bacon

Start checking on the bacon around 20 minutes and take out when the bacon is at preferred crispiness
If you try the recipe comment below and let me know what you thought or any variations that you would suggest.
For my Poppin' Keto Chicken Jalapeno Popper recipe click here
(Visited 145 times, 1 visits today)