Disclosure "As an Amazon Associate I earn from qualifying purchases made through the links below or I may earn money or products from the companies mentioned in this post.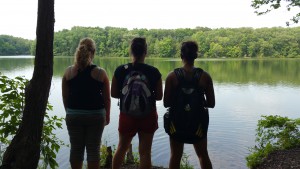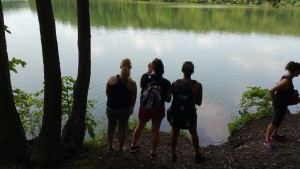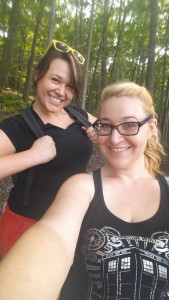 After hiking with a group Sunday afternoon, the roommates and I decided to try something new….. Geo catching. The benefits of living so close to the park keep increasing. There are bike trails, fishing, hiking, picnic areas, tennis, sledging and now we have discovered Geo caching. 
What is Geo caching?
Hide and seek of containers with GPS. The containers are called cached. They normally contain a logbook and larger containers items for trading.  If you take an item then you have to leave an item of equal org greater value is the rule of geocaching. It is a real world outdoor treasure hunt.
The first cach we looked for was called between a rock and a hard place. It was actually in a rock. We spent about forty five minutes looking for it. The app we downloaded ( geocaching intro this is the free version but we will probably be upgrading to the premium version soon for $9.99). A couple enjoying their Sunday evening in the park helped us out with our first find. We might still be looking for it now if not for their help since it was so small and the GPS on the app gets you close but is off by a few feet which is enough to make it a challenge to find small caches.
There was a second one just on the other side of the park so we decided to try that one. It involved hiking up through the woods. It was getting dark and the box was hidden in the woods. We didn't find our second cach since it was too dark in the woods but we were right near it and plan on going back next Sunday after bringing the boat.
It was a lot of fun and something I think we will do again and again. Its free, its active, takes some ingenuity and is a great way to spend time with others.
(Visited 125 times, 1 visits today)