Europe with a Back Pack
17 days, 11 airbnb locations, 6 flights, 5 countries, 2 rental cars, 1 cross country train ride, 1 carry on bag
The EBag Weekender Backpack was my carry on bag for this multi-country trip. The E Bag worked very well and I would recommend. I will be using again and again and wish that I had known about this bag sooner.
Pro's
Good Quality
Lots of pockets
expandable zipper
water bottle holder
laptop slot
compression straps
22x19x9 means it fits all carry on requirements  for the overhead bin
Adjustable straps
Side strap included
Can hold a lot of stuff
Easy to go up and down stairs and escalators
9 Colors to choose from
Comes in a Junior size- 19 inches high
Cons
Can get quite heavy- mine weighed in at almost 22 pounds
Might not stay sitting up depending on how much you stuff into it
Difficult to maneuver with on a crowed train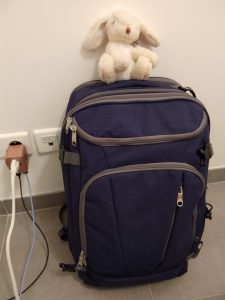 My personal Review
The weekender bag was able to fit a ton of clothes. I packed 2 pairs of jeans, 1 pair of leggings, 1 pair of yoga pants, sneakers, Croc flats, 1 bra, socks, underwear, reusable menstrual pads, 7 long sleeve shirts, hair brush, toiletries bag, deodorant, plug converter, 11 inch laptop, soap in a plastic container and 2 vitamin bottles and 1 small backpack packed inside the large backpack. I feel that it was able to hold just as much as a regular carry on bag with wheels.
Awesome Features
The front pocket is very deep. This made it so that I was able to put my soap and my deodorant all the way down to the bottle of the bag. The front pocket were very convenient for getting the toiletry bag out when going through security. I  also found the back laptop section to be a wonderful addition for storing my laptop. That section sits against your back when the bag is on giving you peace of mind about no one being able to access it. It is quite deep but there is a pocket that helps to make it so your laptop does not slide all the way down.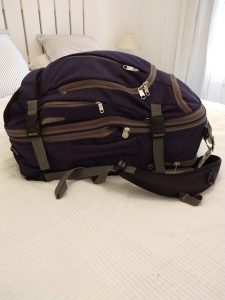 There are 2 straps on the inside to help compress down your clothes. On the outside of the bag there are 4 more compression straps, 2 on each side that really help to compress the bag.In addition, the expander zipper proved to be a very useful feature. I would open the expander zipper to get all my stuff inside the bag and then use the outer compression straps to compress the bag. The compression straps made it so the bag did not look so large.
Sizing
I did not have any issues with the size of the bag. We flew 3 different airlines, United, Easy Jet and Ryanair. United allows one carry on and one personal item. It was on these flights that I used a small backpack as the personal item.  On the Easy Jet flights, which we had 3 of, I had to fit everything in only 1 carry on bag. I was able to do this each time and did not have any problems with the size of the bag.
I used the sizer to double check and it fit with a little pushing. This is one of the reason I wanted a soft sided bag with no wheels or handle.  When we took the Ryanair flight, we paid to check the carry on bags. Ryanair has much smaller carry on allowances and it was easier to check the bag instead of trying to find one that fit their allowance.
Was it hard t0 carry around?
The E Bag Weekender was great for going up and down all the stairs we encountered. I did not have to lift my bag up to go up the stairs. If I was standing in a line for a long time I would put the bag on the floor. On the bus and the public trains I would need to take the bag off and put it on my lap or on the floor if there was room.
There was one instance in London between landing and getting the train to Paris that I walked quite far around London for some sightseeing with the backpack. This was the only time that I wished that my bag had wheels. Lather though, I  was glad my bag was on my back when we left very early in the morning for the airport and my husband's rolling bag was very loud.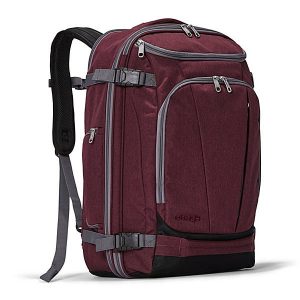 Price
Motherlode Weekender
$149.99 https://www.ebags.com/product/ebags/mother-lode-tls-weekender-convertible/143101?productid=10362789
Look out for promotions and sales on the website. As of writing this they are offering a discount code that brings the bag down to $89.99.
Junior Weekender
$139.99 https://www.ebags.com/product/ebags/tls-mother-lode-weekender-convertible-junior/241465?productid=10395044
Conclusion
I really like this bag and would recommend it. I am glad I used this bag on our cross county Europe.
(Visited 44 times, 1 visits today)
Please follow and like us: