An introduction to cloth pads
Cloth menstral pads are not much different than disposable pads. They are used in the same way. The pad is attacted to your underwear and soaks us the blood. Disposable pads are thrown out and add to landfills while cloth pads are washed and reused over and over again for many years. Cloth pads can be bought on websites such as amazon and etsy or made by hand. There is not much difference between the way you use either pad making the transition not so difficult.
Cloth vs Disposable
Disposable
Bleached to make white
Contributes to landfils
New pads must be bought when you run out
May cause rashes for some women
Can be thrown out
Cloth pads
Eviromently friendly since reusable and have no plastic wrapping
Less overall waste
Saves money
Can be made at home
Helps small business
Comfortable
Made with less chemicals or non at all
More breathable so carry less odor
Up front cost is more
Must be washed
How to use
Cloth pads are used in much the same way as disposables. Disposables have an adhesive that allows it to attach to the underwear. Cloth pads may have a snap or button to keep it in place.You will need cloth pads in a variety of sizes for light days up to heavy days. Depending on how often you are able to wash the pads will depend on how many you need for one cycle. I was able to get away with only four pads but had to wash them all one time during my cycle. I used Pink Lemonade Shop minky pads found on etsy.com in size 7 in, 8 in, 9 in and 10 in. The 7 in is good for everyday or light days, the 8 in for light to medium, 9 in for medium to heavy and the 10 in for heavy to overnight. I found these to be very absorbent and easy to use and wash. I was impressed with how well they held up during heavy days and over night. I had almost no leaking and they stayed in place.
To wash
Rinse the used pad in the sink with cold/warm water. You can let them soak in the water if you want to or ring them out and put into a bag until you can wash in washer. I rinsed them out after each use making sure all the blood was out as best as possible and then put into a baggie until I could wash in washer. I then washed the pads with my regular laundry and dried it in the dryer also. I then was able to reuse the pads. The minky pads did not stain and are very soft and comfortable. There are many small business and people who make and sell cloth pads. Etsy is a great place to find some and Amazon.com. You can also look for instructions to make your own.
This was originally posted on hubpages by me. http://silverempiress.hubpages.com/hub/Cloth-Menstral
Some of the larger companies that sell cloth pads offer a free panty liner if you pay shipping to test out their product before you make a larger purchase. All cloth pads are slightly different with slightly different designs. I prefer the all in one m pads which are what the minky pads are. Much like a disposable pad all in one pads are very simple. Just use the snaps or Velcro to secure the wings. A different type of cloth pad has removable inserts. This allows you to use the same base pad all day and just change the insert. Also this type can be adjusted for heavy flow data by adding extra inserts.
I paid $5 for a sample of the Luna pad liner. It hasa very soft top and wide wings with small closure. It is a 6 inch light pad. Check out Lunapads.com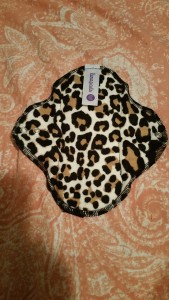 Party in your pantspants,  partyinyourpants.com also offers a sample liner if you pay shipping. They let you pick between a thong liner, a mini liner and a deluxe liner. The thong and mini liner are 7 inches long and the deluxe liner is 9.5 inches. They also let you pick if you want solid, floral or a fun novelty print and you can choose between cotton and flannel for material. My total came to $3.99 for shipping.
Gladrags.com also offer a panty liner for $5.95. Their liners are normally $13.95. The liners from Luna pads, party in your pants and gladrags all were about $11-$14 and went up from there. Paying shipping for these samples, only one per household per terms and conditions on Luna pads and party in your pants, is a great help when your on a tight budget. The liners work great with a menstrual cup like the Eva cup. I have a post on what a menstrual cup is, how to use it and the one I tried the Eva cup in an earlier post. Since cloth pads can be expensive I really like that I could find some for just shipping. Etsy has many people seeking cloth pads of different styles also. I also found free cloth pad patterns on Pinterest. With some inexpensive towels, old t-shirts or other articles of clothing you no longer wear or some clearance fabric, a little bit of sewing know how, either by hand or with a sewing machine you can try to make your own cloth pads for a fraction of the cost of buying them. There will eventually be a post about my adventure in making my own cloth pads from old clothing.
(Visited 581 times, 1 visits today)
Please follow and like us: